Super Mario is a classic video game that is loved by kids and adults alike, so it's a great choice for a birthday theme!
These 24 Mario Birthday Party Ideas are designed to help you bring your child's favorite video game to life, but in an easy, simple, and fun way!
From dessert ideas to decorations and activities to party favors for your guests, these Mario themed birthday ideas are sure to be a hit with everyone!
Mario birthday desserts
These tasty Mario-inspired desserts are quick and easy to make, even if you don't have much time!
Goomba Cupcakes
Goomba Cupcakes are so much fun to make and serve! Instead of cake, you can use homemade or store-bought chocolate cupcakes topped with chocolate frosting. Decorate the tops using black and white fondant to create eyes, teeth and eyebrows.
Source of photos and inspiration from Jessica Etcetera
Super Mario Mushroom Cupcakes
Another fun cupcake to serve would be these vanilla cupcakes decorated to look like toadstool mushrooms from the Super Mario game. Use red and green icing and white fondant circles to create these colorful treats!
Source of photos and inspiration from My heavenly recipes
Star Power Sugar Cookies
These super star cookies are easy to make and look so good on any dessert table! The rolled out cookie dough is cut into a star shape and then decorated with yellow frosting and 2 black strips for eyes!
Source of photos and inspiration from Amazing every day
Cupcakes with Princess Peach
Turn box mix cake & frosting into princess peach cupcakes with gumdrop crowns. The perfect pink for everyone's favorite Mushroom Kingdom princess!
Source of photos and inspiration from Betty Crocker
Strawberry vanilla mushroom popsicles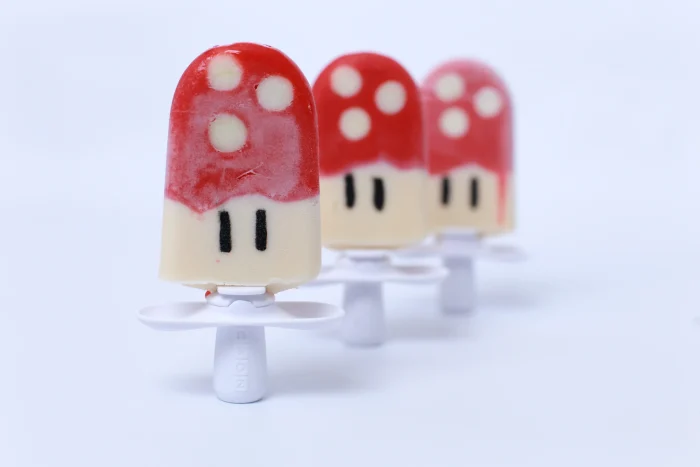 Mario mushrooms, but in the form of popsicles! These Strawberry Vanilla Milkshake Popsicles are a cool and refreshing treat that all kids will love!
Source of photos and inspiration from Rosanna Pansino
Bowser Shell Cupcakes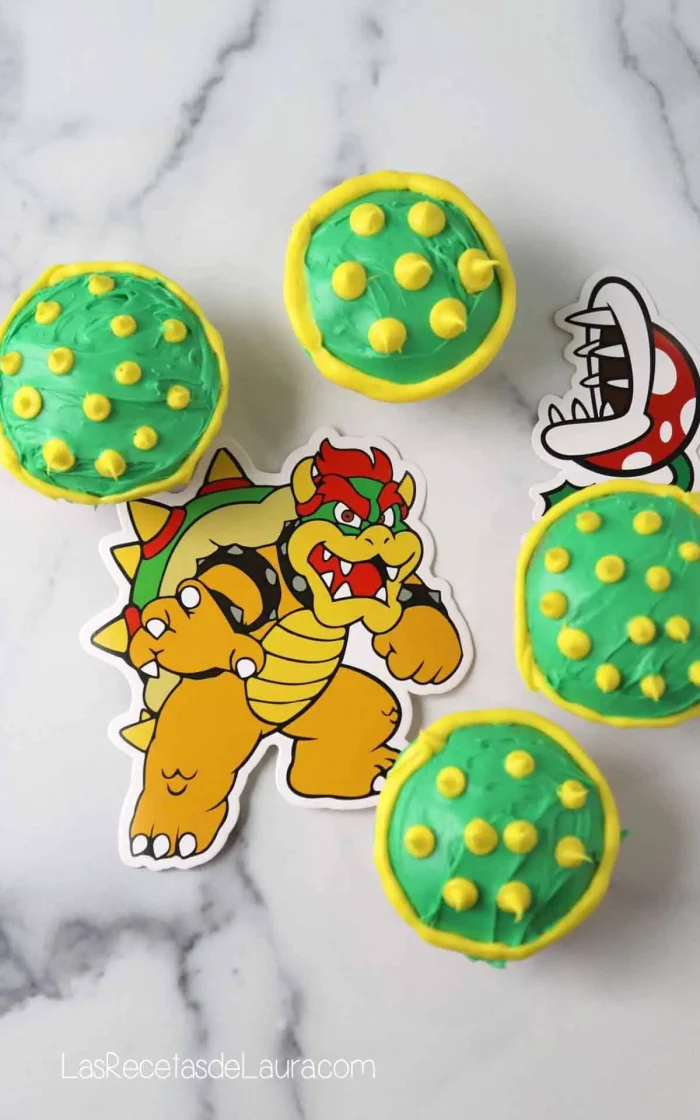 Mario's birthday party wouldn't be complete without something inspired by Bowser. Make these Bowser Cupcakes with just frosting and a piping bag (or a zip-top with the tip cut off!). Simple and engaging.
Source of photos and inspiration from Laura's recipes
Kirby Strawberry Shortcakes
How adorable are these Kirby Cookies? The strawberry cookies are decorated with melted chocolate to create that adorable little face!
Source of photos and inspiration from Bites by Bianca
Super Star Rice Krispies Treats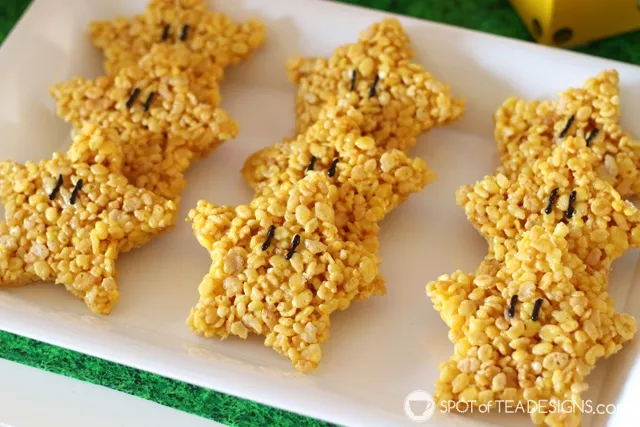 There are no baked treats for summer birthdays because who wants to turn on the oven in the heat? Try these Mario-inspired Rice Krispies.
Source of photos and inspiration from Spot of Tea Designs
Goomba Custard Cups
An unexpected alternative to cupcakes, Goomba pudding or dirt cups! These are such classic children's treats.
Source of photos and inspiration from Melissa Miller
Mario Candy Cart
This Mario themed birthday party idea will be a kid's favorite! Fill the basket with candies that represent different elements in the game, or simply add your child's favorite items!
Source of photos and inspiration from Hostess with Mostess
Mario birthday party decorations
These simple but very fun birthday decoration ideas will make your kids feel like they are in their favorite video game!
Colorful balloon arch
Balloon arches are such an easy way to add color to any room. Build an arch using Mario colored balloons around the front door to greet your guests or in your main party room.
Source of photos and inspiration from Ashton Sit down
Hanging decoration toadstool mushroom
Hanging these giant toadstools from the ceiling is another unique way to bring this classic game to life!
Source of photos and inspiration from Kara's party ideas
Origami mushrooms
These origami mushrooms make cute decorations or make perfect cards or tags too! For an older kids or teen party, this would also be a fun party activity.
Source of photos and inspiration from All for Boys
King Boo Hanging Coins and Balloons
Create a simple backdrop for photo opps or desserts with balloons turned into King Boo and paper plates turned into coins!
Source of photos and inspiration from It almost makes perfect
Paper Fan Piranha Plants
Turn red paper fans into giant piranha plants. These set the theme for the bash if you place them next to your front door or the entrance to the party venue.
Source of photos and inspiration from 5M creations
Goomba balloons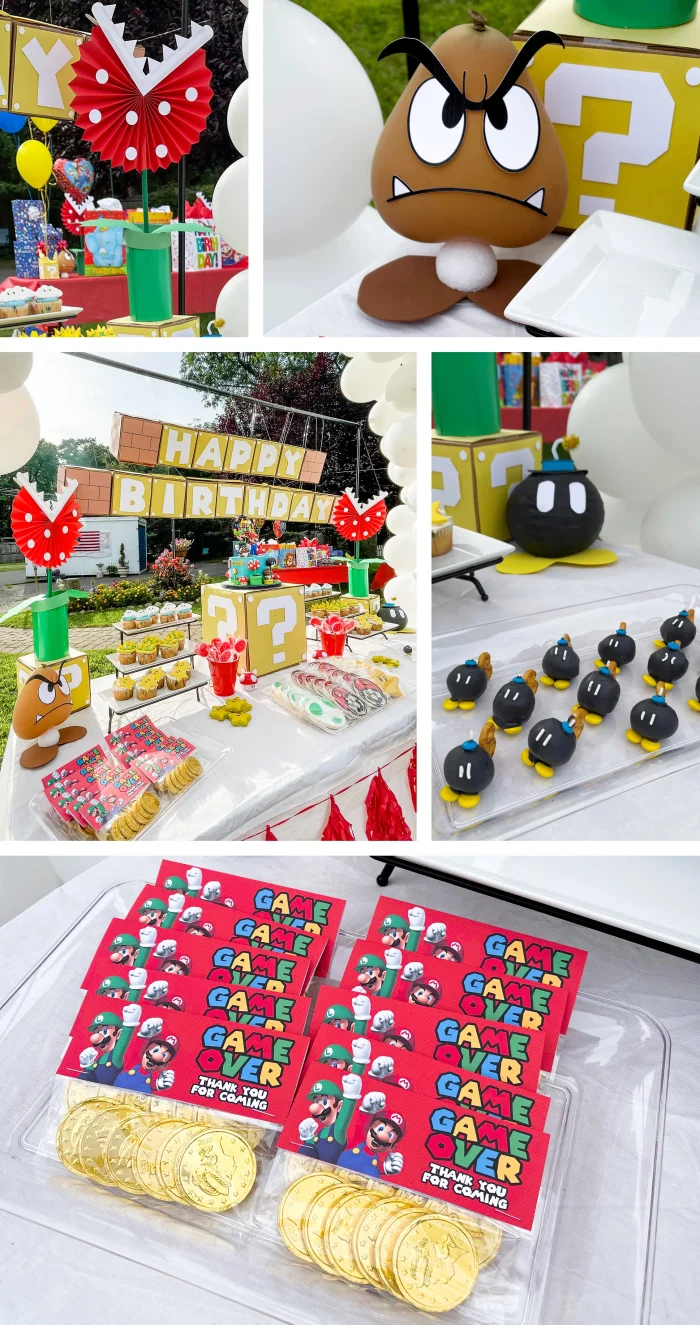 Goomba Balloons are easier to make than they look! Glue paper goomba face cutouts onto brown heart shaped balloons. Craft paper is used to make the legs and styrofoam balls for the center.
Source of photos and inspiration from Helia Design Co.
Mario Birthday Party Activities
These fun birthday activities will keep party guests of all ages entertained!
Super Mario Bingo
Super Mario Bingo can be a fun and interactive board game. This template contains all the cards you need to play. It would be a good idea to print this out on cardstock so that all the pieces hold well while everyone plays the game!
Source of photos and inspiration from Artistic fart mom
Mario Perler Bead Patterns
Mario Perler beads are a fun and completely hassle-free activity great for kids of all ages! You can choose a template more or less difficult depending on the age of the party guests!
Source of photos and inspiration from Great kids crafts
Cardboard Mario Kart Race
If you're looking for Mario birthday party ideas for younger kids that have requested this theme, hit the trash can! Turn cardboard boxes into Mario Kart cars and race! (Or just use them for some adorable photos!)
Source of photos and inspiration from Means of lines
Castle Bounce House
If you are throwing a party and want a big bang for your buck with little effort, my recommendation will always be to rent a bounce house. You don't need any more entertainment and all you have to do is book your rental! Luckily, so many of them are locks and in basic colors that are perfect for a Super Mario birthday.
Scavenger Hunt
A birthday scavenger hunt does two things in one: party and kindness! Shop themed items in bulk like these star stress balls or these the banana ones (both of which could be used for a number of future party themes as well!) or use something similar gold coins. Hide them around the party venue and send the kids out to find them.
They can turn in their find for a price! Fill the box with different themed prizes such as stickers, tattoos, bath bombs, crafts or candy. A great alternative to a piñata for a larger group!
For a scavenger hunt for older kids (must read!) check out this great one Mario the scavenger idea too!
Mario birthday wishes
Simple and unique party ideas that your guests will love but don't take too much time to put together.
Simple Mario Goodie Bags
You don't have to have an extravagant bag if you don't want to! Simply decorating question mark craft gift bags and filling them with chocolate gold coins, mustaches and fake tattoos can be just as fun for kids to take home!
Source of photos and inspiration from It almost makes perfect
Question Box Favorites
Fill the printable question mark boxes with chocolate coins for a simple edible favor!
Source of photos and inspiration from Fine every day
Bubble wands
Bubble wands they are a party hit for many ages and come in the perfect Super Mario colors. Just add a Mario themed favor tag to them (here another cute brand optiontoo!) and put in a basket for each child to take on their way home!
And there you have it, 24 Mario birthday party ideas that are easy to pull off whether you have a lot of time to plan or not! These Super Mario party ideas will bring so much joy to your child on their special day!